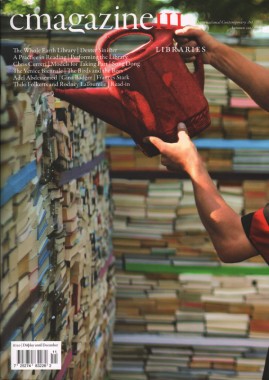 C Magazine 111, Libraries
Softcover, 60 pp., offset 4/1, 210 x 295 mm
Edition of 2200
ISSN 1480-5472
Published by C Magazine
$7.50 ·
Issue 111 Libraries includes features by Adam Lauder on Performing the Library; Jen Hutton on Dexter Sinister; David Senior on the Whole Earth Catalogue; Randy Lee Cutler on Reading; Pandora Syperek on ILLUMINnations: the 54th Venice Biennale; Jenifer Papararo on Frances Stark: I've Had it and a Half at The Hammer Museum, and an artist project by Read-in. Issue 111 also includes reviews of: Rabih Mroué: The Inhabitants of Images at Prefix ICA; Song Dong: Waste Not at the Vancouver Art Gallery; Gina Badger: Mongrels at Issue Project Room; Adel Abdessemed: The Future of Décor at OCAD Professional Gallery; Chris Curreri: Something Something at University of Toronto Art Centre; The Birds and the Bees at Oakville Galleries; The Domestic Queens Project at FOFA Gallery, Concordia, and Wim Botha: All Around at Galerie Jette Rudolf. Also included is a review by the 2011 C New Critics Competition winner Kari Cwynar on Models for Taking Part at Presentation House Gallery.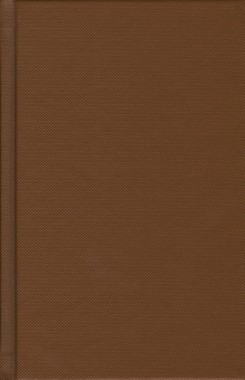 Dexter Sinister, Portable Document Format
Hardcover, 200 pp., offset 4/1, 4.25 x 6.75 inches
Edition of 1000
ISBN 978-1-933128-85-6
Published by Sternberg Press
$20.00 · out of stock
Over the past few years, Dexter Sinister has been interested in exploring contemporary publishing in its broadest, most exploded sense. The first part of this book consists of pieces of writings written since the conception of their New York basement workshop and bookstore in the summer of 2006. These writings were previously published online as PDFs in the Library at www.dextersinister.org. They were primarily written by Dexter Sinister or by one of a circle of regular collaborators, often for their house journal
Dot Dot Dot
, or as supplements to other books or exhibitions.
The second part consists of reproductions of a series of lithographic proof prints. Accompanying these prints are extended captions individually produced for different exhibitions in 2008. Each caption was composed in line with the manner of its accompanying image. Although never intended as a set, a number of generic themes emerged, such as abstraction, mathematics, logic, and cooperation. The book intends to demonstrate how ideas from the first part have been rechannelled in the second.