C Magazine 108, Money
Softcover, 64 pp., offset 4/1, 210 x 295 mm
Edition of 2200
ISSN 1480-5472
Published by C Magazine
$7.50 ·
C Magazine issue 108
Money
includes an artist project by Abbas Akhavan, where he has inserted a sheet of imitation gold leaf in each of 2,200 copies of C Magazine. Also available are 25 special limited edition magazines with gold leaf, signed and numbered by the artist.
Feature articles in issue 108 include Economies of Faith, by Richard Ibghy and Marilou Lemmens, looking at works by Mark Boulos, Melanie Gilligan and Olivia Plender that explore the relationship between the workings of the market and the spiritual belief, and Documents of Self-Administration: A Conversation with Vincent Bonin, by Adam Lauder, about the exhibition Documentary Protocols at the Leonard & Bina Ellen Gallery. This issue also includes interviews with British artist Spartacus Chetwynd, by David Lillington, and Canadian artist Divya Mehra, by Natasha Bissonauth.
Reviews include Shannon Anderson on Anselm Kiefer's Palmsonntag at the Art Gallery of Ontario; Saelen Twerdy on Projections: Music Video at Musée d'art contemporain de Montréal; Kenneth Hayes on Group ABS at Gallery Siz in Rijeka, Croatia; Vanessa Nicholas on Rivane Neuenschwander's A Day Like Any Other at the New Museum; Heather Diack on Annie MacDonell's Beside the Midnight Lake at Katharine Mulherin Contemporary Art Projects; Rebecca Weisman on Guy Ben-Ner: Thursday the 12th at Mass MoCA; Jill Glessing on Fernando Sánchez Castillo: National Episodes and Óscar Muñoz: Becoming Air at Círculo de Bellas Arte, Madrid; Michael Birchall on the 6th Berlin Biennale; and Evan Webber on Jon McCurley: Fashion Blog — Clothes for President.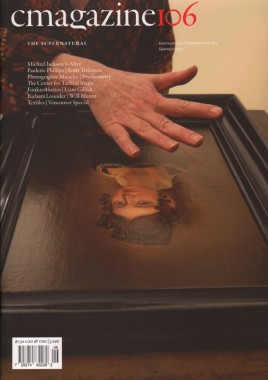 C Magazine 106, The Supernatural
Softcover, 64 pp., offset 4/1, 210 x 295 mm
Edition of 2000
ISSN 1480-5472
Published by C Magazine
$7.50 ·
Issue 106 includes feature articles by Jennifer Fisher on psychometry, Lynn Crosbie on Michael Jackson, and Louis Kaplan on Nate Larson's photographic miracles; David Lillington interviews Paulette Phillips, and Leah Modigliani interviews The Center for Tactical Magic; book and exhibition reviews from Antwerp, Chicago, Toronto, Edmonton, Victoria, Charlottetown, Stratford Ontario, McIvers Newfoundland and Ridgefield Connecticut, with a special section covering Vancouver during the 2010 Winter Olympics; artist project by Scott Treleaven, accompanied by an essay by Elijah Burgher.