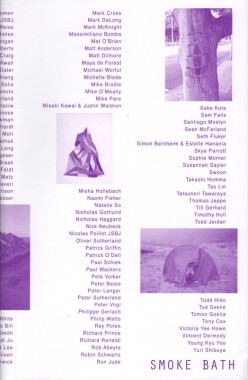 Peter Sutherland, Smoke Bath
Softcover, 328 pp., offset 1/1, 5.25 x 8 inches
Edition of 500
ISBN 978-0-98259360202
Published by Seems
out of print
Smoke Bath
is a collection of photographs and art work loosely based on the theme of camping, nature, and exploring.
The goal of Smoke Bath is to showcase the work of artists that are inspired by nature and raise money for freshair.org in the process. The Fresh Air Fund (freshair.org) is an independent, not-for-profit agency that provides free summer vacations to New York City children from low-income communities.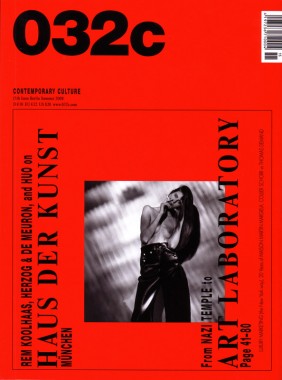 032c 15, Haus der Kunst
Softcover, 256 pp., offset 4/1, 20 x 27 cm
Edition of 2000
Published by 032c
$20.00 ·
Rem Koolhaas, Jacques Herzog and Hans Ulrich Obrist consider Haus der Kunst, Munich: From Nazi temple to Art Laboratory; Collier Schorr tells Thomas Demand how she made Germany hers; LAM magazine transforms Moscow youth culture; art director Richard Pandiscio and Marc Jacobs' Robert Duffy school us in luxury marketing; architect Greg Lynn curves his enthusiasm; a happy birthday to Maison Martin Margiela.