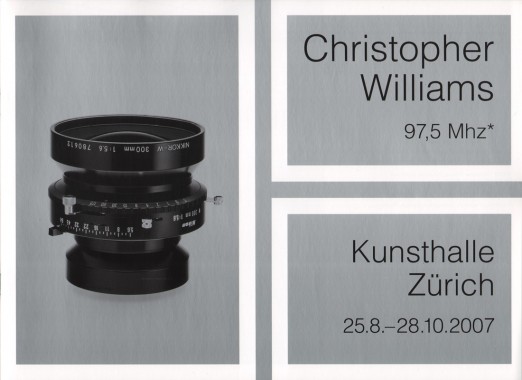 Christopher Williams, 97,5 Mhz
Softcover, 24 pp., offset 4/1, 320 x 235 mm
Edition of 1000
ISBN 978-3-905829-04-4
Published by JRP|Ringier
$25.00 ·
Los Angeles conceptualist Christopher Williams, born in 1956, studies the conditions of presentation and representation in order to call into question spoon-fed perceptions, "realistic" reproductions, communication mechanisms and aesthetic conventions that influence our perception and understanding of reality. This volume presents works from 2003-2007.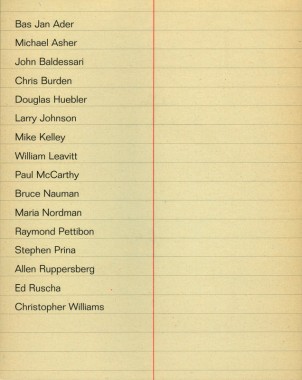 Gregory Williams, Art from Los Angeles: From the 60s-90s
Softcover, 48 pp., offset 4/4, 215 x 270 mm
English and German
Edition of 2000
ISBN 9783865603241
Published by Walther König
$26.00 ·
Since the 1960s, Los Angeles has been a hub for groundbreaking art. This slim volume features work by Bas Jan Ader, Michael Asher, John Baldessari, Chris Burden, Douglas Huebler, Larry Johnson, Mike Kelley, William Leavitt, Paul McCarthy, Bruce Nauman, Maria Nordman, Raymond Pettibon, Stephen Prina, Allen Ruppersberg, Ed Ruscha and Christopher Williams.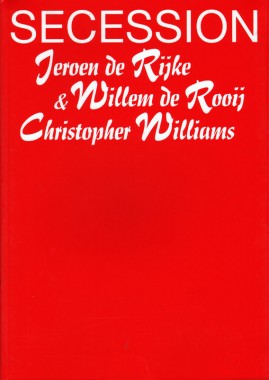 Christopher Williams, Secession
Softcover, 96 pp., offset 4/duotone, 210 x 297 mm
Edition of 5000
ISBN 9783865600417
Published by Walther König
$25.00 ·
In late 2005, Vienna's Secession gallery exhibited work by the influential Los Angeles Conceptual artist and master of appropriated commercial imagery, Christopher Williams, alongside work by the Dutch collaborators Jeroen de Rijke and Willem de Rooij. The show was documented in two separate catalogues — one for each artist (or artist team) — and this volume presents the work of Williams only. It includes photographs of a model showcasing a shower door, cameras and camera parts, corncobs, car interiors, bicycles and other elements of the urban landscape. Viewers may be familiar with some of the work, which was featured in 2006 on the cover of Artforum. The de Rijke and de Rooij volume of this two-part catalogue is not available here.