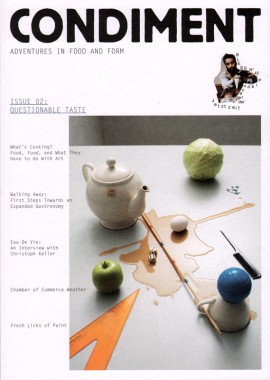 Condiment 2, Questionable Taste
Softcover, 90 pp., offset 4/4, 165 x 230 mm
Edition of 1000
ISSN 1837–8226
Published by Condiment
$18.00 ·
This issue of Condiment has reminded us of the simple truth that we are living with food, not living for food. In this context, the aim shifts from accomplishment to a need for further exploration. Ideas and approaches to food have never seemed so evolved and exaggerated. Yet, as the focus on the meal continues to increase, we risk forgetting about all the hours of living that exist in between. Rather than only being an object of desire, food needs also to be a subject of discussion—approached not as a statement about politics, provenance or proficiency, but as an open-ended question mark. In some form or another, we hope that each page of this issue raises questions —not just about what food is, but about what it can be. After all, each meal is both an outcome and a new beginning.
Produced in collaboration with BLESS. Images from their collection BLESS N° 42, Plädoyer der Jetztzeit appear on each page of the publication.
The Kingsboro Press 5
Softcover, 52 pp., mimeograph 3/1, 8.5 x 11 inches
supplement: Amy Yao Curates for The Kingsboro Press
Softcover, 44 pp., mimeograph 1/1, 8.5 x 11 inches
Edition of 350
Published by The Kingsboro Press
$20.00 ·
Issue 5 of The Kingsboro Press, mimeograph printed by The Kingsboro Press at The Uses of Literacy in Greenpoint, Brooklyn. Contributors: Becca Albee, Jordan Awan, Dan Arps, The Changes, Mason Cooley, Chris Barton, Milano Chow, Dru Donovan, Jason Eberspeaker, Richard Elliot, Ryan Foerster, Alex Gartenfeld, Zoe Ghertner, Petrova Giberson, Bieanca Hester, Matthew Higgs, David Horovitz, Marie Jager, Thomas Jeppe, Josh Kline, Maxwell Krivitsky, Aude Levere, Mondo Mondo, Jeff Morgan, Dan Moynihan, Jason Park, Asher Penn, Megan Plunkett, Jacob Robichaux, Carissa Rodriguez, Joshua Ray Stephens, Ethan Swan, Oscar Tuazon, Alex Vivian, Daniel Wagner, Jessica WIlliams, Amy Yao, Doniella Davy.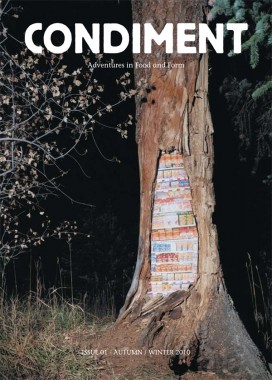 Condiment 1 — Adventures in Food and Form
Softcover, 72 pp., offset 4/4, 165 x 230 mm
Edition of 1000
ISSN 1837–8226
Published by Condiment
$18.00 ·
Condiment — Adventures in Food and Form
is a publication and project-base exploring the relationship between food and creativity and food and community.
For the most part, food is nature at its most familiar. While views on its production and presentation become ever more complex and conflicted, it is nevertheless us that set the parameters.
As its masters we think: food is here to serve us. But quite possibly: we are here to serve food. Reversing the roles and giving up control is an eye-opening exercise. After all it is we who are dependent on food, and not food that is dependent on us.
One key attribute to the good servant is enthusiasm and enthusiasm is most often found in the amateur. The true amateur, of which E.C. Large was proudly an advocate, is defined as "one who loves".
Beyond our own lack of expertise, although that is true too, it is this simple sentiment that has informed Condiment — Adventures in Food and Form. Equal parts wonder and worship, each page of this publication is not as much about what we do know as what we don't.