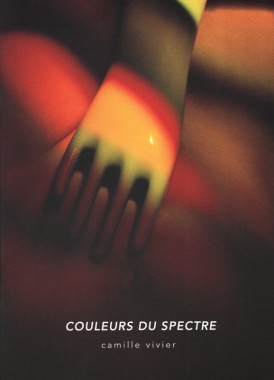 Camille Vivier, Couleurs du Spectre
Softcover, 68 pp., offset 4/4, 8.5 x 11 inches
Edition of 500
ISBN 978-0-9825936-4-6
Published by Seems
$24.00 ·
Couleurs du Spectre, contains a selection of photographs by Camille Vivier taken over the last ten years. They blend together classical pictorial subjects such as still life, nudes, and animals but with a distinct personal eye revealing a shadowy universe. Each photograph is theatrically staged employing props and the artifice of light to play with the formal beauty of the subject, while revealing a certain strangeness among the stillness. Vivier uses literature, cinema, and art history to reinterpret common cultural references and create a personal collection of curios and imagery of fantastic animals and characters. The film sequences are an extension of the photographic process and allow for further exploration of themes and imagery.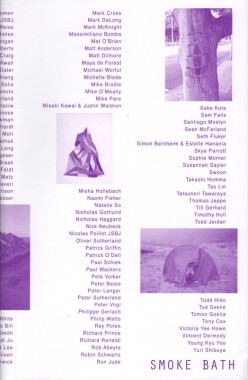 Peter Sutherland, Smoke Bath
Softcover, 328 pp., offset 1/1, 5.25 x 8 inches
Edition of 500
ISBN 978-0-98259360202
Published by Seems
out of print
Smoke Bath
is a collection of photographs and art work loosely based on the theme of camping, nature, and exploring.
The goal of Smoke Bath is to showcase the work of artists that are inspired by nature and raise money for freshair.org in the process. The Fresh Air Fund (freshair.org) is an independent, not-for-profit agency that provides free summer vacations to New York City children from low-income communities.