Bastien Aubry and Dimitri Broquard, In the Beginning it was Humid
Softcover, 48 pp., offset 4/4, 195 x 255 mm
Edition of 1000
ISBN 978-3-905999-03-7
Published by Nieves
$20.00 · out of stock
For several year, Bastien Aubry and Dimitri Broquard have been making work inspired by outsider art or the applied arts like handcrafts or ceramics. It appears as if they both don't think much of rules and that they just spontaneously adapt their ideas. That makes their work fresh and full of expression.
In the Beginning it was Humid
— their fourth publication with Nieves — features a broad selection of their ceramic works from the last few year, and concludes with a short story by A.C. Kupper.
Bastien Aubry (1974) and Dimitri Broquard (1969) established the two-man design studio Flag in 2002. They work for art and cultural institutions, producing catalogues, artists books, magazines and posters. FLAG also creates drawings, illustrations for editorials and private projects. Both Broquard and Aubry respectively teach at art schools in Switzerland.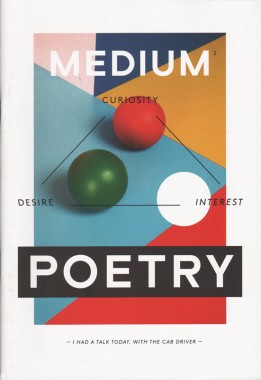 Medium 1, Poetry
Softcover, 64 pp., offset 4/4, 165 x 240 mm
Edition of 500
Published by Nieves
$14.00 · out of stock
Today there was a guy leaning the wrong way in the tube. It was not immediately noticeable. There was no one else sitting nearby. No other passengers to compare him to. But then I did notice that every time the carriage came to a stop, he leaned away from the direction we were moving. Very slightly. Think about it. You're supposed to lean forward. In the direction you were moving toward. Toward the point which the weight of your body was expecting to reach. Now this guy, he leans the other way. Just slightly. As a friend of mine would put it, he has a great sense of irony. Definitely. That's important in life. They say that Rothko, he killed himself because he met the people who bought his art. No sense of irony. Me neither I don't have any sense of irony. I like to take things at face value. Your wife she once told me that what led to the demise of the Black Panthers, aside from the absence of trust, and a murderous governmental incarceration campaign, it was their complete lack of a sense of humor. It was only much later that I realized she meant a murderous governmental incarceration campaign is actually a lot worse than not having a sense of humor. But these ironies are lost on me. Your sister and your wife they both say so. When I tell them things I find funny, they rarely laugh. I'm not even going to mention this guy in the tube to them. I recently told them about my bathroom sink in this hotel room. Real bad design. Flat. Which meant the liquid always accumulated in the corners. Instead of flowing down the drain. You had to use your fingertips to fish out the shaved hair stubble from the corners of the sink. Or it would just lie there. Waiting. You know what's even funnier: you had to try and propel what you spat out when you brushed your teeth towards the center of the sink. Or you'd have mounds of mucus and toothpaste. Just drying in small heaps, here and there. Hilarious. And speaking of heaps of mucus. Another thing I'll keep to myself – this was the funniest thing in years: I saw an old couple smooching in the street the other day. How often do you see that. Teenagers, yes. Or oldies arm in arm. But here you had oldies with their tongues down each other's throats. Right there in the pedestrian zone. Eighty years old maybe more. Couldn't believe it. I just stood there laughing. These oldies have no sense of humor either. They pretended not to hear me. But I could tell they heard me perfectly well. So now the carriage starts moving again, and I stand up, knowing I'll exit at the next station. You see there are things I'm less sure about. Are they funny or just poetic. Lately my eyeballs scrunch as I close my eyes. A crunching sound. Brief, almost imperceptible. The sound is a bit like high-tech mechanics when they start aging. Wearing out. A whispering scrunching sound. Funny, or lyrical? Now as I exit the carriage, I notice there's vapor in the air as I breathe, despite the high temperatures. It's been like this all week. Again, very odd and almost funny. In a tiny, barely noticeable kind of way. Like the guy leaning the wrong way back there. As the doors slam shut, I turn around to look for him. I want to see which direction he's leaning in as the train departs. Before I can assess his movements, he smiles and waves. I wave, but I fail to smile back. It's just not funny anymore.
Flag, Stadttheater Bern
Softcover, 16 pp., offset 4/1, 14.8 x 21 cm
Edition of 500
Published by Nieves
$8.00 ·
Between 2004 and 2007, Flag (Dimitri Broquard and Bastien Aubry) designed more than 60 posters for the "Stadttheater Bern" (Switzerland). This booklet contains a selection of 15 pieces. Each original poster has a size of 90 x 128 cm and is silkscreened.