Brendan Fowler, Cancelled
Softcover, 60 pp., offset 4/1, 7 x 10 inches
Edition of 1000
Published by 100% Biz
$20.00 ·
Cancellation for me is this dynamic act: it is at once violent, an attack, an endgame to a struggle, but at the same time the mega opener. In the place of something cancelled there is only opportunity, only potential… For example, an event is cancelled, you have the night free; tour is cancelled, you have two weks to stay at home and work in your studio and sleep in your own bed and not lose money; exhibition is cancelled, now look at all of this time and material you have floating around… The bottom line is canceling as negating, as a way to remove to create potential, to create space. So after working for a while with the graphice of a literal "CANCELLED" stencil image, it was like, how do you cancel that? How does that get further negated?
— Brendan Fowler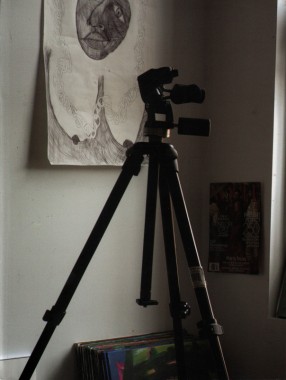 Asher Penn, Nothing Nothing Nothing Nothing 2004-2007
Softcover, 494 pp., offset 4/4, 6.75 x 9 inches
Edition of 1000
ISBN 978-0-982100-60-8
Published by An Art Service
$35.00 ·
In the style of Wolfgang Tillmans and Roe Ethridge, New York-based Asher Penn, born in Vancouver in 1982, captures the quotidian. As an anthology of artist books self-published by Asher Penn between 2004 and 2007 — an anthology that is effectively an artist book itself. Made between Providence, New York, Philadelphia and Vancouver, these 'zine-like publications are rephotographed page by page on top of painted works that Penn was producing at the time of their re-publication. In rephotographing these original editions on the surface of recent work, Penn cleverly illustrates the creative vertigo capable of creeping up on artists while they look back at the artist that they have become. The artist books collected in this anthology include the following: 1. Just Say Maybe; 2. Go Fuck Yourself With Your Atomic Bomb; 3. Bad Hound, Buddha; 4. School; 5. Asher Mixtape Hell; 6. Elisa Penn Hero One; 7. Institutional Critique; 8. The Heart Wants What The Heart Wants; 9. Before And After; and 10. (Untitled).
The Kingsboro Press 5
Softcover, 52 pp., mimeograph 3/1, 8.5 x 11 inches
supplement: Amy Yao Curates for The Kingsboro Press
Softcover, 44 pp., mimeograph 1/1, 8.5 x 11 inches
Edition of 350
Published by The Kingsboro Press
$20.00 ·
Issue 5 of The Kingsboro Press, mimeograph printed by The Kingsboro Press at The Uses of Literacy in Greenpoint, Brooklyn. Contributors: Becca Albee, Jordan Awan, Dan Arps, The Changes, Mason Cooley, Chris Barton, Milano Chow, Dru Donovan, Jason Eberspeaker, Richard Elliot, Ryan Foerster, Alex Gartenfeld, Zoe Ghertner, Petrova Giberson, Bieanca Hester, Matthew Higgs, David Horovitz, Marie Jager, Thomas Jeppe, Josh Kline, Maxwell Krivitsky, Aude Levere, Mondo Mondo, Jeff Morgan, Dan Moynihan, Jason Park, Asher Penn, Megan Plunkett, Jacob Robichaux, Carissa Rodriguez, Joshua Ray Stephens, Ethan Swan, Oscar Tuazon, Alex Vivian, Daniel Wagner, Jessica WIlliams, Amy Yao, Doniella Davy.