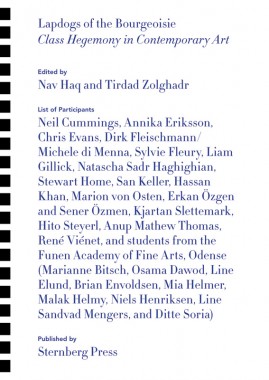 Nav Haq and Tirdad Zolghadr, Lapdogs of the Bourgeoisie
Softcover, 180 pp., offset 4/1, 170 x 240 mm
Edition of 2000
ISBN 978-1-933128-88-7
Published by Sternberg Press
$25.00 ·
Class inevitably raises awkward questions for the protagonists of contemporary art — about their backgrounds, patrons and ideological proclivities. Lapdogs of the Bourgeoisie investigates this latent yet easily overlooked issue, which has been historically eclipsed by gender, sexuality, ethnicity and nationality. This book creates a conversation on a sensitive subject, bringing together essays by art-world types including artists, curators and critics. On one hand, the ideas here raise the question of whether a given socio-economic background still helps define an artistic career — and to which point this career might reflect or consolidate the hierarchies in question. On the other hand, the project asks whether the traditional ways of analyzing class structure are actually helpful in an examination of who makes art today.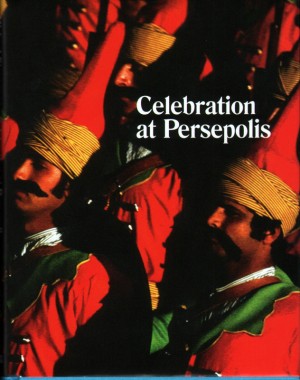 Michael Stevenson, Celebration at Persepolis
Hardcover, 64 pp., offset 4/1, 125 x 160 mm
Edition of 5000
ISBN 978-3-905829-48-8
Published by JRP|Ringier/Arnolfini
$19.00 ·
Described as an "anthropologist of the avant-garde," Michael Stevenson investigates the mythology that surrounds renowned and controversial events which have been significant in the spheres of both art and politics.
Stevenson revisits the site of an infamous week-long party held in 1971 by the Shah of Iran among the ruins of the ancient Persian city of Persepolis. Reconstructing part of the temporary architecture built for the celebrations (itself now a ruin), Stevenson looks at this pivotal moment in Iranian history which led toward the subsequent cultural revolution.
This publication is part of the series of artists projects edited by Christoph Keller. Personally selected by Keller, for Textfield, as one of his top five from the series.