Contra Mundum I-VII
Softcover, 224 pp., offset 1/1, 140 x 220 mm
Edition of 1000
ISBN 978-0-9830773-0-5
Published by Oslo Editions
$18.00 · out of stock
The inaugural volume from
Oslo Editions
,
Contra Mundum I-VII
, documents a series of talks held at the Mandrake in Los Angeles on the theme of "contra mundum" or "against the world." Taking its cue from Evelyn Waugh's novel
Brideshead Revisited
, Contra Mundum posits the world-making potential of (anti)sociality as a subject position and the value of a notion of collectivity grounded in "association without relation." So doing, the book considers a diverse range of topics, including the furniture of Donald Judd, Private Issue New Age music, animal subjectivity, misanthropy and the trope of self-banishment in Shakespeare, apocalypticism and the zombie film, pirates from Blackbeard to Somalia, and the post-punk vocalist Mark E. Smith. Featuring contributions from artists Rupert Deese, Elad Lassry, Anthony Pearson, and Frances Stark, and critics Aaron Kunin, Matthew Taylor Raffety, and Evan Calder Williams.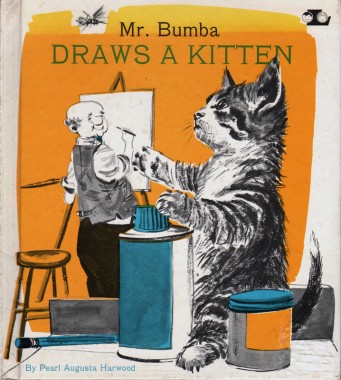 Pearl Augusta Harwood, Mr. Bumba Draws a Kitten
Hardcover, 32 pp., offset 3/2, 8.25 x 9.25 inches
Fifth edition
ISBN 0-8225-0107-4
Published by Lerner Publications
$11.00 ·
condition:
very good
, some wear on cover, interior unblemished, fifth edition, excellent reference copy.
Mr. Bumba was a painter of pictures. One day he wanted to make a picture of a kitten. But he could not remember just how to do it.
Copyright 1966 by Lerner Publications Company; fifth edition published in 1974. The type used in this book is Mr. Bumba Text set in 16 point.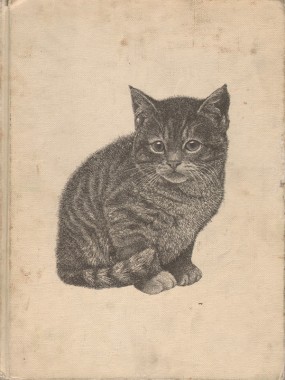 Howard Loxton, all color book of Kittens
Hardcover, 62 pp., offset 4/4, 215 x 290 mm
Edition of 5000
ISBN 0-7064-0325-8
Published by Octopus Books
sold
condition:
fair
, missing dust jacket, worn cover, interior in good condition.
all color book of KITTENS, published in 1974 by Octopus Books, London. A collection of 108 photographs of kittens being as cute as they can, doing kitten things: drinking milk and playing with string. Black and white illustration on front and back cover, all color photographs inside. Contents: You and your kitten; The new arrival; The variety of kittens; Discovery and exploration; In high places; Kittens at play; Acknowledgments.