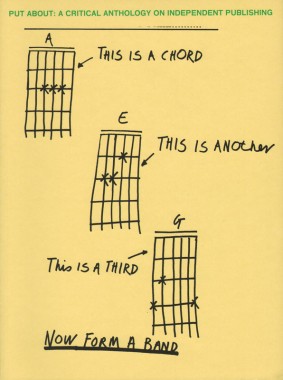 Maria Fusco and Ian Hunt, Put About: A Critical Anthology on Independent Publishing
Softcover, 194 pp., offset 4/1, 190 x 255 mm
Edition of 2000
ISBN: 1-870699-70-X
Published by Book Works
$40.00 ·
Put About: A Critical Anthology on Independent Publishing presents a timely discussion about independent publishing and publishing by artists, focusing on books where the makers keep control of every aspect of production through to distribution. Combining an interest in what and why publishers and artists feel compelled to deliver such materials, together with the economic models, audience and networks of association that can give independent productions a wider cultural presence, this book features a broad range of written and visual pieces alongside 'case-studies' from a selection of contemporary international publishers. Contributors include: John Baldessari, Simon Bedwell, Michael Bracewell, Andrea Brady, Cabinet Magazine, Bonnie Camplin, Maurizio Cattelan, David Dibosa, Matthew Higgs, Stewart Home, Lucy Lippard, Emily King, Gunilla Klingberg, Jakob Kolding, John Miller, Paul D. Miller aka Dj Spooky, Aleksandra Mir, Stéphanie Moisdon, David Osbaldeston, Raymond Pettibon, Lynne Tillman, Nicolas Trembley, and Axel John Wieder.
Aleksandra Mir, 105 selected details from the Sharpie drawings 2003-2006
Softcover, 150 pp., digital 1/1, 140 x 225 mm
Edition of 250
Published by onestar press
$50.00 · order wholesale
I like Sharpies for their intense blackness and sharp points when they are new, for how the paper absorbs their ink, and for how they become mushy and fade with extended use – allowing for a great richness in gray tone and variation of line. For years, I used them only for writing telephone notes, the occasional doodle and for cartoons. Then in 2003 I was hiking in Iceland, and I came back to my small Manhattan apartment with an intense physical sensation of having crossed vast territories and the desperate need to hold on to this feeling a bit longer, representing it in as carnal a way as possible. I started drawing from the memory in my legs, mimicking on large paper with my hand the resistance that gravity had held on my body while crossing the flow of the glacial rivers and lava. This all recreated the sensation of being wonderfully naïve and lost in a foreign landscape, combined with the challenge of having to navigate with only a few known coordinates and the joy of accomplishment when arriving at some sort of personal end, like an early explorer. A decorative border and a completely arbitrary reference to 'scale' produced the first 'map'. The joke was on the pointlessness of an operation that takes place in a fully surveilled planet, in an era of GPS boredom, and the redundancy of geographical curiosity or any exploration at all. This book is a partial document, in honor of the Sharpie as the marker of my time and of drawing, as simply the trace of a frail act of performance, of both being lost and of finding one's way.