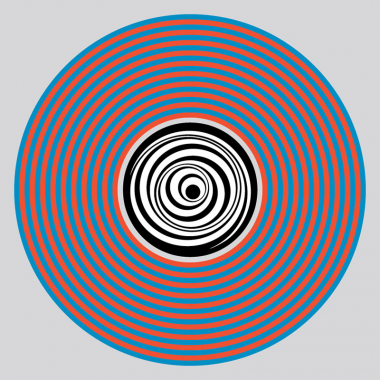 The Masses, The Electric Information Age Album
12-inch vinyl record, sleeve silkscreened/letterpress 2/1, 12.25 x 12.25 inches
Inventory Records 01 [IR01-A]
Edition of 400
Published by Inventory Books
$20.00 ·
Created as an audio extension to "The Electric Information Age Book" by Jeffrey T. Schnapp and Adam Michaels, the LP was made in the spirit of the experimental 1967 "The Medium is the Massage LP", the "first spoken arts record you can dance too" based on media theorist Marshall McLuhan's groundbreaking book of the same name.
Produced by Schnapp, Michaels, and Daniel Perlin in a process paralleling the books production, the album incorporates new music drawing upon a wide range of genres (such as Post-Punk, Mutant Disco, Baile Funk, and Chicago Juke) with samples, quotations, and text from the Electric Information Age Book. Recorded and mixed at Perlin Studios; Mastered at Bonati Mastering; Pressed at Brooklyn Phono; Designed at Project Projects ; Letterpress Printed at Sheffield Product; Screenprinted at Haven Press.
A side: The Book of the Now; Involve US in Depth; Verbal-Visual Vernacular; In the World of Emotion; Mass Glass; Erasing Time; Page 82; Decisions; Page In.
B side: Drill Press (Dub); Page 122; Philosophical Works; Tomorrow Today; Printing Printing Printing Printing; Non-Tribal Placard; Pattern Recognition Pattern; T>E>I>A>B; Arts First Spoken Dance To; Page Out.
Digital download of 19-track album.
'What's the difference between this "second spoken arts record you can dance to" and its 1967 predecessor "The Medium is the Massage LP"? For all its pop fizz, the latter dangles its propositions and prepo­sitions, but seems to leave the body stumbling, fumbling for itself on the dance floor. In its labors of reworking, The Electric Information Age Album honors its predecessor while seeking to further advance its claims.'
— Jeffrey T. Schnapp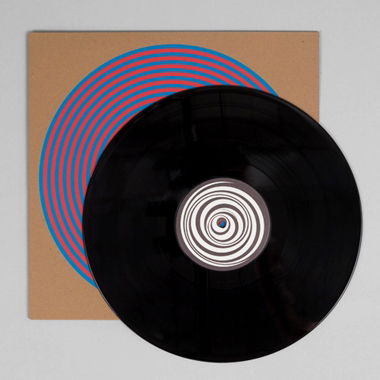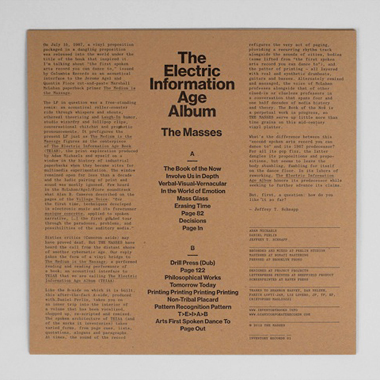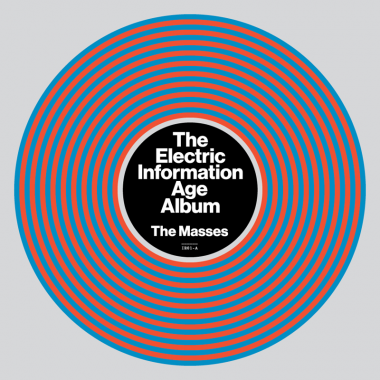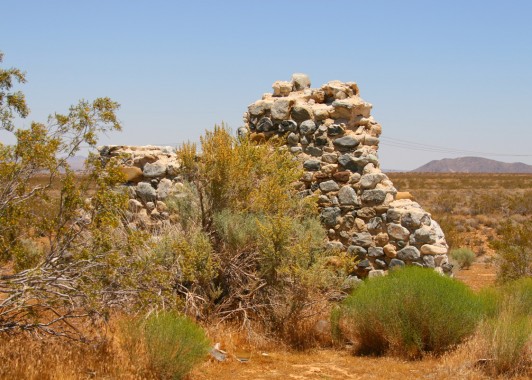 Llano Community Bookstore
CalArts Library and IKO IKO Space
Two-part temporary bookstore
April 5 — April 20, 2012
Organized by Textfield, Inc.
PART I
CalArts Library: Microfilm Room
24700 McBean Pkwy.
Valencia, CA 91355
Thursday, April 5, 1-6pm
PART II
IKO IKO Space
931 N. Fairfax Ave.
Los Angeles, CA 90046
Friday, April 6 — Friday, April 20, 12-7pm (Closed Mondays)
Llano Community Bookstore is a two-part temporary bookstore, hosted for one day (Thursday, April 5, 1-6pm) at the
CalArts Library
, and for fifteen days (Friday, April 6 to Friday, April 20) at
IKO IKO
in Los Angeles.
CalArts graduate students have selected titles from the Textfield Distribution Catalog, to be included in both parts, and will install/deinstall and work as Shopkeepers during PART I of the temporary bookstore, located in the CalArts Library Microfilm Room. PART II of the temporary bookstore will be hosted by IKO IKO in Los Angeles, and includes furniture, used for both parts, designed by WAKA WAKA.
The (fictional) bookstore is based upon, and takes its name from, Llano Del Rio, which was organized under the Llano Del Rio Company and was a corporate-run socialist Utopian society initiated by Job Harriman, following his narrow defeat in a runoff election for the mayorship of Los Angeles. Harriman believed that the success of socialism depended not only on politics, but also on the realization of socialist principles. Harriman did not attempt to reform all of society, but rather, he believed that by creating a functioning socialist community within the larger society of capitalism, the larger society would gradually convert to socialism.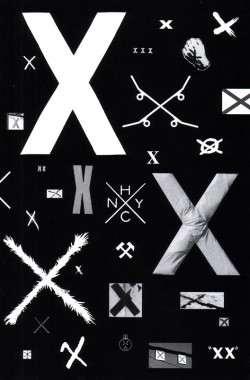 Glen Cummings and Adam Michaels, X
Softcover, 112 pp., offset 1/1, 130 x 190 mm
Edition of 1000
Published by Glen Cummings and Adam Michaels
$10.00 ·
This publication is an initial attempt to examine the trajectory of the X symbol in underground music culture. While the X is broadly associated with the punk scene—in particular, straight edge hardcore—the symbol contains a wide range of often-contradictory meanings. This document presents our ongoing research; we welcome comments, corrections, and criticism.