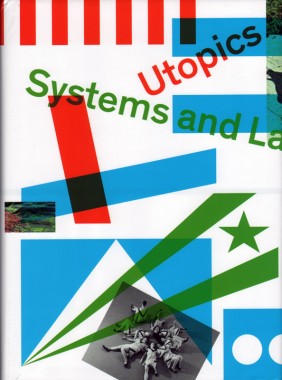 Simon Lamunière, Utopics: Systems and Landmarks
Hardcover, 160 pp., offset 4/4, 160 x 220 mm
Edition of 2000
ISBN 978-3-03764-056-2
Published by JRP|Ringier
$45.00 ·
This publication examines the spaces, nations, and communities created by artists or indivuals to develop alternative modes of living. Throughout history individuals have continuously developed systems based on a mix of reality, fiction, and mediatization, create micro-nations, or fight for their existence. All these proposals are simultaneously real and utopic. By inventing identity signs (IDs, flags, constitutions, currencies, etc.), by practicing their beliefs (be it through dance, naturism, terrorism, or collectivism), and by working on the boundaries of reality (parallel worlds, isolationism, new territories, etc.), these proposals are challenging our definitions of normalcy and territoriality. The title
Utopics
is itself the free contraction of utopias, you, topic, topos, and pics.
Conceived as a glossary, the book includes artists such as Le Bélier, Carsten Höller, Clemens von Wedemeyer, Fabrice Gygi, General Idea, Lang/Baumann, Matt Mullican, Mai-Thu Perret, NSK (Irwin), Peter Coffin, Steiner & Lenzlinger, Superflex, as well as intitiatives such as La République Géniale (Robert Filliou), State of Sabotage (Robert Jelinek), micro-nations, L'Ecole de Stéphanie, etc.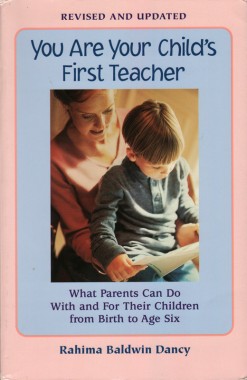 Rahima Baldwin Dancy, You Are Your Child's First Teacher
Softcover, 384 pp., offset 4/1, 6 x 9.25 inches
Revised edition
ISBN 0-89087-967-2
Published by Celestial Arts
$13.00 ·
condition:
good
, shelf wear, excellent reading copy.
You Are Your Child's First Teacher: What Parents Can Do With and For Their Chlldren from Birth to Age Six.
The importance of what our children learn in the home and through their relationship with us forms the irreplaceable foundation of all that comes later. Mother, childbirth educator, midwife, and Waldorf educator, Baldwin aims to deepen our understanding of the nature of the young child as a whole being — body, mind, emotions, and spirit — so enabling us to meet their needs for balanced development.
In a society which values intellectual development above all else, we tend to ignore other aspects of development. We reason with our children as if they were grown ups and teach them with techniques appropriate for much older children. Distrustful of natural processes, we believe we have to do something in order to ensure our child's development. Milestones of the first three years — walking, talking, thinking, and memory — occur by themselves, according to their own timetable. Trusting natural processes does not mean that we do nothing, but that the things we do need to be consonant with the child's own developmental stages.
The world of the young is critically endangered, as more and more children are placed in daycare in infancy, and academic pursuits are pushed onto younger and younger children. The hurried child syndrome is apparent in all spheres of activity. We try to speed their development with baby walkers and gymnastics, and reason with five-year-olds as if their ease with words ought to translate into control of their actions in the future. Problems arise when we fail to realize how different a three year old is from a child of nine, or a teen from an adult. Children do not think, reason, feel, or experience the world the way an adult does.
She advocates nurturing babies' development through the first year by touching, carrying, talking, singing, contact with nature, nursery rhymes, and movement games. She cautions against baby bouncers, baby walkers, playpens, and baby gymnastics, and believes that one of the greatest gifts parents can give a child between birth and first grade is time and materials for the creative play which helps her work her way into earthly life by imitating all she experiences. The very young do not need playgroups (though their parents might!), gymnastics, educational tools, nor fancy toys. They need circle and movement games, songs, musical and artistic activities, and examples of real work for imitation. They need contact with nature, nourishing images from stories, and simple toys they can complete with the imagination. We learn, for example, that the beautiful doll and the anatomically correct doll are a hindrance to the child's inner development, leaving nothing for her imagination to supply, and providing more than she can hold in awareness. Toys based on TV and movie characters (therefore with fixed personalities) leave little room for creative imagination. Baldwin urges that we consider not only the safety, but aesthetic quality of a toy. Is it beautiful? How does it feel to the touch? What pictures of the world does it offer the child?
She cautions us against providing rational and scientific answers before our children are ready. Because their verbal skills far outweigh their conceptual knowledge, we tend to answer at a level of abstraction far beyond their comprehension. Calling directly on the intellect and memory of the child during the first seven years, not only takes him away from movement and valuable play, but accelerates his change of consciousness and robs him of valuable years of early childhood — years vital to later physical health and mental development. At this age, children learn best through direct life experiences and imitation.
The young child accepts us as perfect and good; once he becomes older and sees our imperfections — the most important thing is that the child sees we are striving to do better. Our desire for inner growth (or our complacency) is perceived by the child and has a very deep impact.