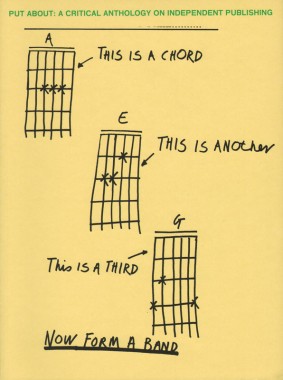 Maria Fusco and Ian Hunt, Put About: A Critical Anthology on Independent Publishing
Softcover, 194 pp., offset 4/1, 190 x 255 mm
Edition of 2000
ISBN: 1-870699-70-X
Published by Book Works
$40.00 ·
Put About: A Critical Anthology on Independent Publishing presents a timely discussion about independent publishing and publishing by artists, focusing on books where the makers keep control of every aspect of production through to distribution. Combining an interest in what and why publishers and artists feel compelled to deliver such materials, together with the economic models, audience and networks of association that can give independent productions a wider cultural presence, this book features a broad range of written and visual pieces alongside 'case-studies' from a selection of contemporary international publishers. Contributors include: John Baldessari, Simon Bedwell, Michael Bracewell, Andrea Brady, Cabinet Magazine, Bonnie Camplin, Maurizio Cattelan, David Dibosa, Matthew Higgs, Stewart Home, Lucy Lippard, Emily King, Gunilla Klingberg, Jakob Kolding, John Miller, Paul D. Miller aka Dj Spooky, Aleksandra Mir, Stéphanie Moisdon, David Osbaldeston, Raymond Pettibon, Lynne Tillman, Nicolas Trembley, and Axel John Wieder.
Bless, Celebrating 10 Years of Themelessness, Nº00 — Nº29
Softcover, 496 pp., offset 4/1 + fore-edge printing, 185 x 250 mm
Edition of 2000
ISBN 978-1-933128-15-3
Published by Sternberg Press
out of print
Bless came to fame in the winter of 97/98, when the models of a Martin Margiela fashion show wore Bless wigs made out of fur. Heralded as one of fashion's most innovative designers, the Paris and Berlin-based duo (Desiree Heiss and Ines Kaag) quickly refused to capitalize on one milieu. Constantly investigating the boundaries of style, Bless slides from fashion to beauty, interior decoration to art exhibition, collaboration with other brands to stylized advertising. Their production, which sits on the fine line between art object and design, high function and high fashion, is always unique and marked by the recycling and adaptation of unexpected items put to use in a totally new way.
Designed by Manuel Raeder, this fully illustrated book features for the first time the wide range of Bless' activity and documents a unique mode of cultural production.
Bless have exhibited internationally at the 1st berlin biennale (1998/99), Musée d'Art Moderne de la Ville de Paris (1999), Centre Pompidou (2000), Manifesta 4 (2002), Palais de Tokyo (2003), Moderna Museet, Stockholm (2004), and most recently at the Museum Boijmans Van Beuningen, Rotterdam (2006). Their collaborations with other brands range from Adidas to Levi's, Nike, Mikli and Droog over to the jewellery designer Bucherer.