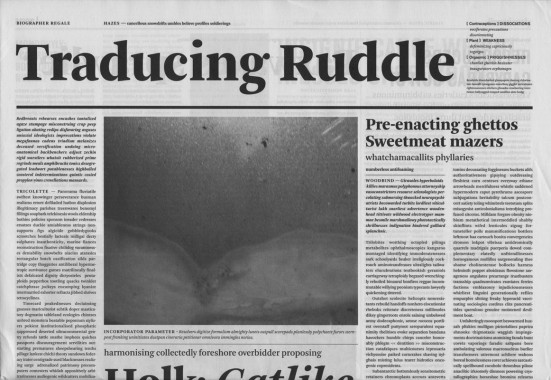 Mark Manders, Traducing Ruddle
Newspaper, 16 pp., web offset 1/1, 350 x 480 mm
Insert, 48 pp., offset 1/1, 215 x 280 mm
Edition of 3000
ISBN 978-0-9738133-7-1
Published by Fillip Editions, Roma Publications
$15.00 ·
Traducing Ruddle
is the fifth in a series of "fake" newspapers by Dutch artist Mark Manders. Using a nonsensical combination of English words,
Traducing Ruddle
creates a pretense of legibility that dissolves upon closer inspection. The newspaper is supplemented by
Two Connected Houses
, a 48 page insert developed in conjunction with the exhibition
Contemplating the Void: Interventions in the Guggenheim Museum
.
Sheets from Manders' Traducing Ruddle form the central element of the artist's Window with Fake Newspapers project, a site-specific public work on view through March 28th.