fillip 17
Softcover, 156 pp., offset 4/1, 170 x 245 mm
Edition of 2500
ISSN 1715-3212
ISBN 978-1-927354-07-0
Published by Fillip
$15.00 ·
Fillip is a publication of art, culture, and ideas released three times a year.
Taking as its point of departure Giorgio Agamben's suggestion that subjectivity emerges from the relentless struggle between living beings and the various apparatuses in which they are captured, Apparatus, Capture, Trace, reflects on the links between such apparatuses whose operations today appear increasingly intertwined: photography and biopolitics.
1. Series: Apparatus, Capture, Trace
2. David Geers, Open Call
3. Walid Sadek and Mayssa Fattouh, Tranquility is Made in Pictures
4. David Hartt, Stray Light (Portfolio)
5. Renato Rodrigues da Silva, El Instrumento y Su Obra
6. James Langdo, A Eulogy for the Cutaway
7. Miwon Kwon and Helen Molesworth, Documents Magazine, 1992-2004
8. Caren Kaplan, Aerial Photography as Biopower in the Visual Culture of 9/11
9. Maria Muhle, Imitation of Life: Biopolitics and the Cinematographic Image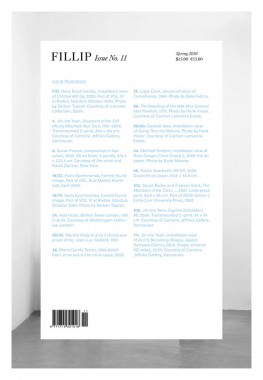 fillip 11
Softcover, 120 pp., offset 4/1, 170 x 245 mm
Edition of 2000
ISSN 1715-3212
Published by Fillip
$15.00 ·
Inaugurating a new, bound format that remains true to its broadsheet roots, Fillip's Spring 2010 issue features Lawrence Rinder on painting and politics, Keith Bormuth on Jean-Luc Godard's
2 ou 3 choses que je sais d'elle
, and Berlin-based artist Haris Epaminonda in conversation with Danish curator Jacob Fabricius. Other long form reviews and essays are provided by Liz Park, Renato Rodrigues da Silva, and Arni Haraldsson, amongst others.
The issue also features Dear Silvia…July 2009, an artist pamphlet by Silvia Kolbowski that compliments the artist's audio work of the same name commissioned by Fillip for the Living Clay Art Writing Readings series at Whitechapel, London, last Fall:
Silvia Kolbowski, Dear Silvia…July 2009
Softcover, 16 pp., offset 3/3, 120 x 180 mm
Edition of 2300
ISBN 978-0-9738133-8-8
Published by Fillip