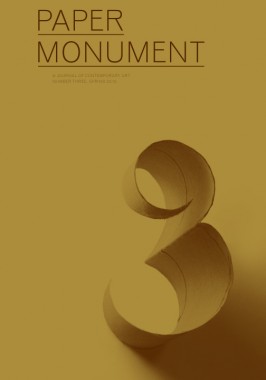 Paper Monument 3
Softcover, 84 pp., offset 4/1, 7 x 10 inches
Edition of 2200
ISSN 1938-8918
ISBN 978-0-9797575-3-2
Published by n+1 Foundation, Inc.
$12.00 ·
Paper Monument is a journal of contemporary art published in association with n+1. It is edited by Naomi Fry, Dushko Petrovich, Prem Krishnamurthy, Jessica Slaven, and Roger White, and designed by Project Projects. Issue Three includes new artworks by Matthew Brannon, Leslie Hewitt, Munro Galloway, and Jessie LeBaron; and writing by Sarah Hromack, Lauren O-Neill Butler, James Bae, Christopher Hsu, and many others.