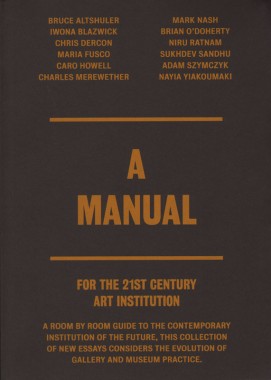 Shamita Sharmacharja, A Manual For the 21st Century Art Institution
Softcover, 184 pp., offset 2/2, 150 x 210 mm
Edition of 2000
ISBN 978-3-86560-618-1
Published by Walther König
$42.00 ·
A Manual For the 21st Century Art Institution invites 12 writers — artists, academics, curators and gallery and museum directors—to assess the present trajectory of arts institutions by explicating various issues, each of which is associated with an imaginary room. Readers journey from the reception to the roof terrace via rooms dedicated to temporary exhibitions, site-specific commissions and collections displays, taking in the bookshop, café, auditorium and education spaces along the way. Bruce Altshuler, Iwona Blazwick, Chris Dercon, Maria Fusco, Caro Howell, Charles Merewether, Mark Nash, Brian O'Doherty, Niru Ratnam, Sukhdev Sandhu, Adam Szymczyk and Nayia Yiakoumaki are our guides to this inviting theater. The result is an indispensable handbook for art professionals, students and anyone curious about today's art world.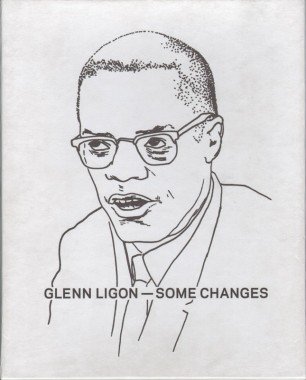 Glenn Ligon — Some Changes
Softcover/slipcase, 200 pp., offset 4/1, 220 x 270 mm
Edition of 2000
ISBN 9781894212069
Published by The Power Plant
$40.00 ·
Glenn Ligon is one of the preeminent members of a generation of American artists who came to prominence in the late 1980s with conceptually-based paintings, photographs and text-oriented works concerning the social, linguistic and political constructions of race, gender and sexuality. Incorporating sources as diverse as photographic scrapbooks and Richard Pryor's stand-up comedy routines — his lush coal-dust paintings of excerpts from James Baldwin's 1955 essay "Stranger in the Village," for instance — Ligon's art is a meditation on representation of the self in relation to culture and history. Handsomely designed with a hardcover slipcase, Some Changes is the artist's first significant monograph. Well-illustrated texts by critics and curators Wayne Baerwaldt, Huey Copeland, Darby English, Wayne Koestenbaum and Mark Nash survey Ligon's works from 1982 to 2005, and a candid interview with Toronto artist Stephen Andrews delves into Ligon's personal insights and professional experiences.