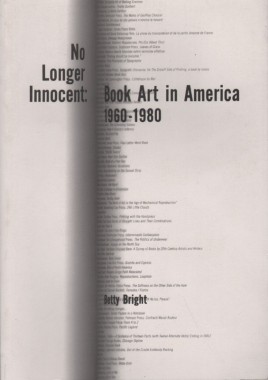 Betty Bright, No Longer Innocent: Book Art in America 1960-1980
Softcover, 320 pp., offset 4/1, 7 x 10 inches
Edition of 2000
ISBN 978-1-887123-71-6
Published by Granary Books
$40.00 ·
This important history of the artist's book, a flourishing form which over the years has often been greeted with confusion by critics, collectors, historians and artists, aims to spell out its role in contemporary art and to claim for it a vital and heretofore unacknowledged status since the blossoming of the artform in the 1970s. Renowned scholar and curator Betty Bright takes an inclusive view of the varied field in order to redress its marginalization, identifying three distinct types: the fine press book, the deluxe book, and the bookwork. She covers crucial supporters of the form, like New York's Center for Book Arts, Franklin Furnace, and the Visual Studies Workshop Press in Rochester, New York, as well as key organizations and figures in Chicago, Atlanta, San Francisco and Los Angeles. Bright examines how artist's books have responded to specific movements, such as Pop, Fluxus and Conceptualism, and how the book arts' own mini-art world of the 1970s was shaped by seminal exhibitions, fledgling nonprofit organizations and collectors.
Un Coup de Dés: Writing Turned Image. An Alphabet of Pensive Language
Softcover, 250 pp., offset 4/1, 215 x 280 mm
Edition of 5000
ISBN 9783865605436
Published by Walther König
$60.00 ·
In her essay "Writing Turned Image. An Alphabet of Pensive Language," Sabine Folie writes, "An idea…explored in Stéphane Mallarmé's Un coup de dés (A roll of the dice) of 1897 has in the twentieth century become an integral part of the poetological and, more generally, the avant-gardist vocabulary: the idea of unmasking language as a convention whose purpose it is to discipline the individual and to subject it to a regulated system of capitalist exploitation as well as to guarantee orientation in the world… Writing was released from the textual ensemble of the book and integrated into the flow of its media — as a disturbance, a deconstruction of meaning." The ideas of Symbolist poet and galvanizing nineteenth-century intellectual Stéphane Mallarmé are discussed in this text-heavy volume in relation to works by Robert Barry, Lothar Baumgarten, Marcel Broodthaers, Theresa Hak Kyung Cha and Rodney Graham, among others. Scholarly essays by Sabine Folie, Anna Sigridur Arnar, Jacques Rancière, Gabriele Mackert and Michael Newman accompany a generous selection of images by each of the artists.