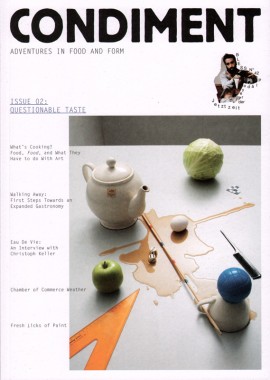 Condiment 2, Questionable Taste
Softcover, 90 pp., offset 4/4, 165 x 230 mm
Edition of 1000
ISSN 1837–8226
Published by Condiment
$18.00 ·
This issue of Condiment has reminded us of the simple truth that we are living with food, not living for food. In this context, the aim shifts from accomplishment to a need for further exploration. Ideas and approaches to food have never seemed so evolved and exaggerated. Yet, as the focus on the meal continues to increase, we risk forgetting about all the hours of living that exist in between. Rather than only being an object of desire, food needs also to be a subject of discussion—approached not as a statement about politics, provenance or proficiency, but as an open-ended question mark. In some form or another, we hope that each page of this issue raises questions —not just about what food is, but about what it can be. After all, each meal is both an outcome and a new beginning.
Produced in collaboration with BLESS. Images from their collection BLESS N° 42, Plädoyer der Jetztzeit appear on each page of the publication.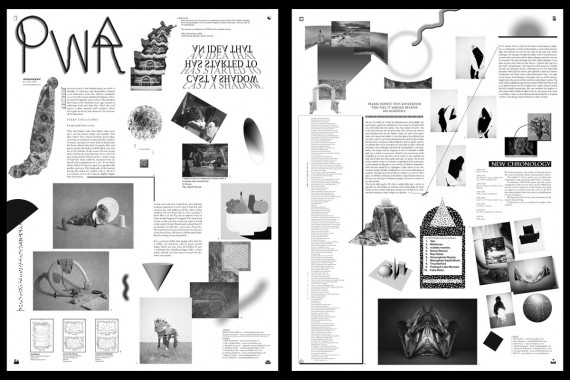 Hanna Terese Nilsson and Rasmus Svensson, PWR 1
Newspaper/poster, 16 pp., web offset 1/1, 570 x 760 mm
Edition of 1000
Published by PWR Paper
$6.00 · free* · out of print
*free copy with each order
Both the future and the past are mysterious places filled with hidden delights and lurking dangers. This is a poster-magazine about traveling in time as well as in (cyber)space. The second manifestation of PWR will be revealed shortly.
26 November 2009, Gothenburg, Sweden, Earth, Internet.