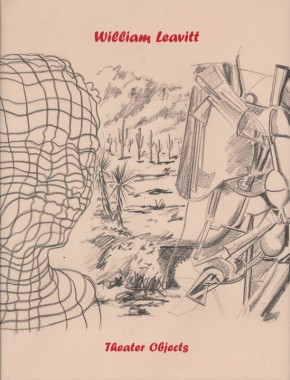 William Leavitt, Theater Objects
Softcover, 148 pp., offset 4/4, 230 x 300 mm
Edition of 5000
ISBN 978-1-933751-18-4
Published by MOCA
$40.00 · out of stock
A pioneer of Conceptual art in Los Angeles during the late 1960s and 1970s, the painter, installation artist and theater director William Leavitt (born 1941) is above all an artist of narrative devices. Since 1969, his works in all the above media have employed abrupt fragments of popular and vernacular culture and depictions of modernist architecture to construct elusive narratives of cityscapes and environments. The culture and atmosphere of Los Angeles has played a significant role in Leavitt's handling of these themes; classic southern Californian motifs of ever-present artifice and almost washed-out brightness recur throughout his work. Surveying the artist's 40-year career, this volume includes sculptural tableaux, paintings, works on paper, photographs and performances from the late 1960s to the present. Leavitt has created a remarkable oeuvre that has influenced generations of artists, and this volume is both long overdue and highly anticipated.
Eric Wesley, Eric Wesley
Softcover, 60 pp., offset 4/4, 8 x 10 inches
Edition of 2000
ISBN 978-0-914357-97-1
Published by MOCA
$25.00 · out of stock
West Coast artist Eric Wesley was born in 1973 in Los Angeles. His work, which can take the form of sculpture, painting, drawing, architectural model or public artwork proposal, often uses decrepit materials and conveys a humorous take on the world and his own identity within it. For the Whitney Biennial, he created scale sets for a faux reality show; his kinetic sculpture Kicking Ass was a mechanized donkey that kicked holes in the gallery wall behind it. This small monograph is the first publication dedicated solely to the artist's work, and is published on the occasion of his exhibition as part of the MOCA Focus series.