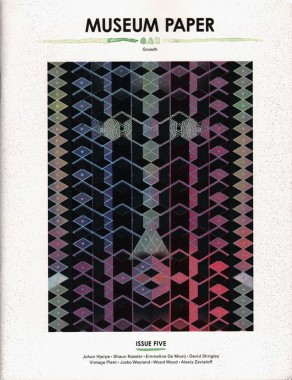 Museum Paper 5
Softcover, 40 pp., offset 4/4, 250 x 295 mm
Edition of 1000, signed and stamped
Published by Museum Paper
$14.00 ·
Museum Paper gives invited artists, photographers, designers and creatives from alternative artscenes space to show their work alongside short interviews. With a background as a fanzine, Museum Paper wants to combine it's D.I.Y. ethics and aestethics with the high quality printing of the traditional art magazine.
Alexis Zavialoff, Distance
Softcover, 48 pp., offset 4/4, 18 x 14 cm
Edition of 1000
Published by Nieves
$22.00 ·
The body of work presented in Distance comes from 3 weeks Zavialoff spent traveling in and out of Moscow's (Russia) surroundings, with his tiny Pentax auto 110 format camera, going from big metropolitan life to getting lost in the woods, meeting genuine people on the way and staying at their houses, documenting life in front of his eyes. Distance is not just the extent he traveled to shoot these beautiful images, it's also a sense of both misplace between his Russian heritage and French upbringing, combined with the width and immensity of a country like Russia.