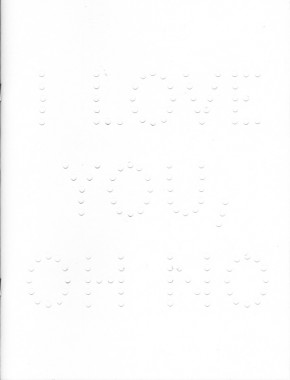 Jürg Lehni and Alex Rich, Empty Words
Softcover, 24 pp., cut paper, 195 x 255 mm
Edition of 500
ISBN 978-3-905714-93-7
Published by Nieves
$24.00 ·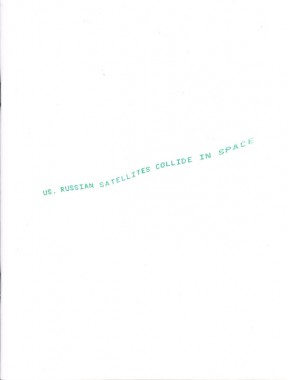 Jürg Lehni and Alex Rich, News
Softcover, 24 pp., offset 1/1, 195 x 255 mm
Edition of 500
ISBN 978-3-905714-94-4
Published by Nieves
$14.00 ·
The
Speed-i-Jet
, a mobile pen-printer manufactured by
Reiner
(Germany), is a device built around an industrial inkjet cartridge / printing head. With its clumsy user interface and 30 character maximum capacity, this charming parasitical product prompted the discussion of possible uses for such a device. Together with the curatorial staff of the institution, daily news headlines were selected and transferred onto the devices. Holding and moving the device like a pen, visitors could experience the writing of texts to which the author is ambiguous.
The headlines were collected during Things to Say at Kunst Halle Sankt Gallen, Switzerland, 14 February — 12 April, 2009.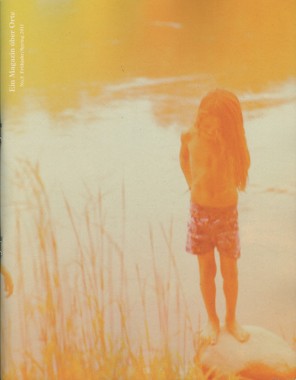 Ein Magazin über Orte 8, Paradise
Softcover, 84 pp., offset 4/4, 210 x 270 mm
Edition of 1000
ISSN 1866-2331
Published by Ein Magazin über Orte
$18.00 ·
Ein Magazin über Orte (A magazine about places) is published twice a year. It deals with a different location in every issue. The magazine collects works of various authors in the form of photographs, drawings and texts.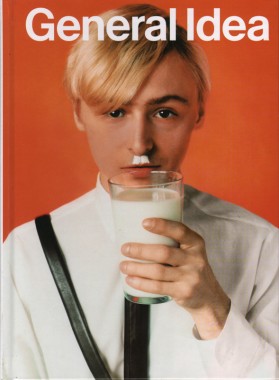 Frédéric Bonnet, General Idea: A Retrospective 1969-1994
Hardcover, 224 pp., offset 4/4, 174 x 238 mm
Edition of 2000
ISBN 978-3-03764-162-0
Published by JRP|Ringier
$40.00 · out of stock
This volume presents an overview of the Canadian collective oeuvre — an oeuvre still haunted by Miss General Idea, a fictive character who was at once muse and object, image and concept. Founded in Toronto in 1969 by Felix Partz, Jorge Zontal — both disappeared in 1994 — and AA Bronson, the trio adopted a generic identity that "freed it from the tyranny of individual genius." Their complex intermingling of reality and fiction took the form of a transgressive and often parodic take on art and society. Treating the image as a virus infiltrating every aspect of the real world, General Idea set out to colonize it, modify its content and so come up with an alternative version of reality.
Paintings, installations, sculptures, photographs, videos, magazines, and TV programs: General Idea's is an authentically multimedia oeuvre, that has lost nothing of its freshness and can now be seen as anticipating certain aspects of a current art scene undergoing radical transformation. The book covers the collective's main areas of concern and themes, such as the artist and the creative process, glamour as a creative tool, art's links with the media and mass culture, architecture and archaeology, sexuality and AIDS, etc. Including newly commissioned essays and republished texts, it is richly illustrated with documents and reproductions of the most important projects realized by General Idea from 1969 to 1994.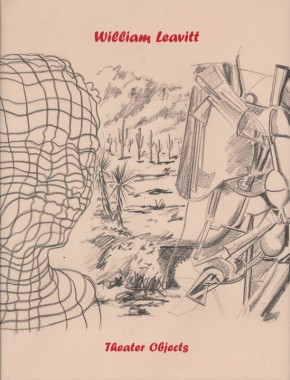 William Leavitt, Theater Objects
Softcover, 148 pp., offset 4/4, 230 x 300 mm
Edition of 5000
ISBN 978-1-933751-18-4
Published by MOCA
$40.00 · out of stock
A pioneer of Conceptual art in Los Angeles during the late 1960s and 1970s, the painter, installation artist and theater director William Leavitt (born 1941) is above all an artist of narrative devices. Since 1969, his works in all the above media have employed abrupt fragments of popular and vernacular culture and depictions of modernist architecture to construct elusive narratives of cityscapes and environments. The culture and atmosphere of Los Angeles has played a significant role in Leavitt's handling of these themes; classic southern Californian motifs of ever-present artifice and almost washed-out brightness recur throughout his work. Surveying the artist's 40-year career, this volume includes sculptural tableaux, paintings, works on paper, photographs and performances from the late 1960s to the present. Leavitt has created a remarkable oeuvre that has influenced generations of artists, and this volume is both long overdue and highly anticipated.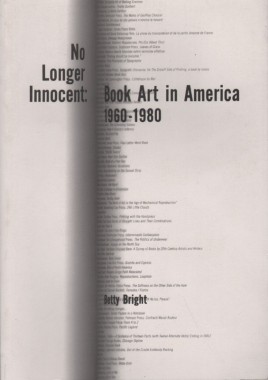 Betty Bright, No Longer Innocent: Book Art in America 1960-1980
Softcover, 320 pp., offset 4/1, 7 x 10 inches
Edition of 2000
ISBN 978-1-887123-71-6
Published by Granary Books
$40.00 ·
This important history of the artist's book, a flourishing form which over the years has often been greeted with confusion by critics, collectors, historians and artists, aims to spell out its role in contemporary art and to claim for it a vital and heretofore unacknowledged status since the blossoming of the artform in the 1970s. Renowned scholar and curator Betty Bright takes an inclusive view of the varied field in order to redress its marginalization, identifying three distinct types: the fine press book, the deluxe book, and the bookwork. She covers crucial supporters of the form, like New York's Center for Book Arts, Franklin Furnace, and the Visual Studies Workshop Press in Rochester, New York, as well as key organizations and figures in Chicago, Atlanta, San Francisco and Los Angeles. Bright examines how artist's books have responded to specific movements, such as Pop, Fluxus and Conceptualism, and how the book arts' own mini-art world of the 1970s was shaped by seminal exhibitions, fledgling nonprofit organizations and collectors.