KALEIDOSCOPE Magazine 14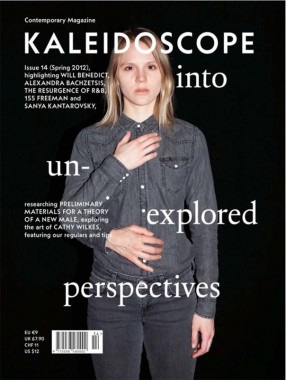 KALEIDOSCOPE Magazine 14 — Spring 2012
Softcover, 168 pp., offset 4/4, 220 x 287 mm
ISSN 2038-4807
Published by KALEIDOSCOPE Press
$12.00 ·
At the core of a platform that includes an exhibition space and an independent publishing house, KALEIDOSCOPE is an international quarterly of contemporary art and culture founded in 2009 in Milan. Distributed worldwide on a seasonal basis, it has gained widespread recognition as a trusted and timely guide to the present (but also to the past and possible futures), unique in its interdisciplinary and unconventional approach.
HIGHLIGHTS
Will Benedict by Alex Kitnick; Alexandra Bachzetsis by Catherine Wood; 155 Freeman by Chris Wiley; The Resurgence of R&B by Tim Small; Sanya Kantarovsky by Joanna Fiduccia.
MAIN THEME — Preliminary Materials for a Theory of a New Male Camp + Dandyism = Neo-Camp? by Chris Sharp; Domenico Gnoli by Giorgio Verzotti; Marc Camille Chaimowicz Partial Eclipse; A Fantastic, Single, Mad Man by Alessio Ascari and Cristina Travaglini.
MONO — Cathy Wilkes
Essay by Rebecca Geldard; Essay by Amy Budd; Special Project by Cathy Wilkes; Focus by Isobel Harbison.
REGULARS
Pioneers: Monir S. Farmanfarmaian by Simone Menegoi; Futura: Adrian Villar Rojas by Hans Ulrich Obrist; Panorama: Mexico City by Magnolia de la Garza; Souvenir d'Italie: Alighiero Boetti by Luca Cerizza; Producers: Gavin Brown by Carson Chan.